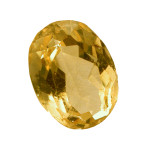 The term comes from the Latin citrus which designates the lemon, by reference to its colour. But then it is a very ripe lemon because the citrine is of a slightly ochre yellow and only the citrines known as "lemon" are adorned with a sour yellow, lemon.
Its appearance
Citrine belongs to the vast family of quartz (silicates, Si O2). Its yellow color is due to the presence of iron oxide in the mineral. Citrine is rarely found in its natural state, most often it is the product of the transformation of heated amethyst which, above 250°, loses its violet colour and turns yellow.
Citrine has the same physical characteristics as amethyst or rock crystal. With its refractive index of 1.544 to 1.553, it has a soft luster and must be well cut to shine. Its hardness of 7 is the minimum required not to be scratched too quickly by the silica dust contained in the air and its structure (difficult to cleave) also makes it resistant to shocks...
Its origin
Citrine comes mainly from Brazil, in particular from Minas Gerais (the region renowned for its gemstone mines) and from the state of Rio Grande do Sul. One of the largest known citrines comes from Brazil, weighing 2258 carats (429 grams). It can be admired at the Smithsonian Institute in Washington.
Citrines can also be found in the Urals, in the United States (especially in California), in Spain (in the provinces of Castilla y Leon) or in Madagascar (in the province of Antananarivo).
Its symbolism
Citrine is associated with the planet Mercury. The followers of esotericism consider citrine as the stone of the Angel Elemiah who, in the Kabalah, is the bearer of a great force of light combined with the purifying force of fire. The charming citrine has in any case crossed the centuries with an excellent reputation since according to the times it took a resonance of hope, youth, health and fidelity.
On the red carpet
On the occasion of the evening celebrating the premiere of the film "The King's Speech", some of the lucky few were able to admire a magnificent platinum tiara, made up of citrines and diamonds, in the private rooms of His Excellency Sir Peter Westmacott, the British ambassador to France. It was part of a very fine order received by Cartier London at the coronation of King George VI in May 1937. Photo N. Welsh, Cartier Collection
How I like it
Citrine is not a stone I look at "spontaneously", but it is really pretty when it is well highlighted by the designers. I'm thinking in particular of Yaël Sonia's Rock rings, (worn in you and me with a "smoked" quartz) or the incredible citrines mounted by Philippe and Laurence Ratinaud, from their brindilles collection.