/ LA GALERIE FERME SES PORTES, ELSA VANIER CONTINUE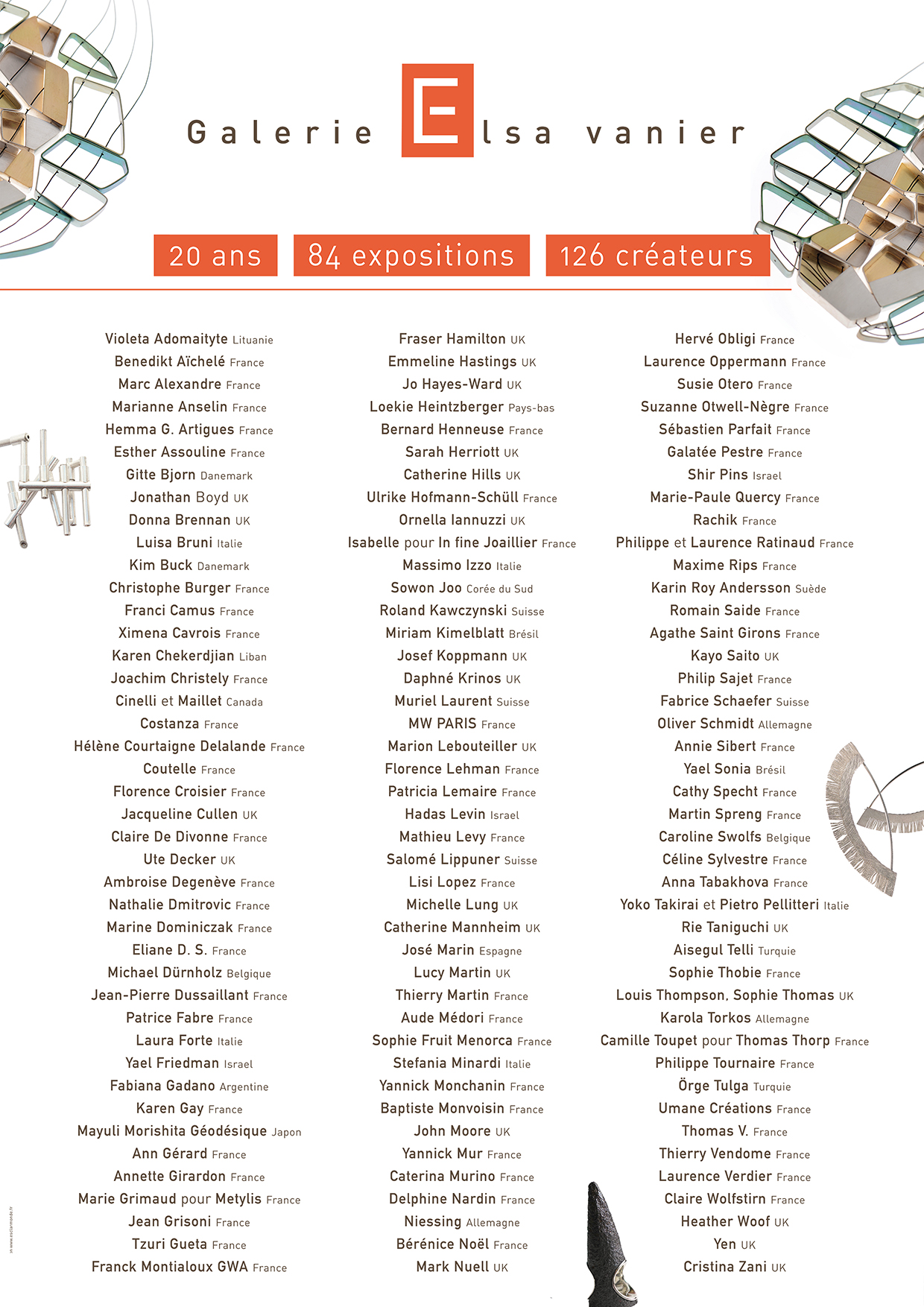 20 ANNEES, 84 EXPOSITIONS....
Et près de 130 créateurs du monde entier exposés, dans deux galeries jamais très éloignées de Saint Germain des Prés. A partir de 2023, Elsa défendra le bijou contemporain en tant que commissaire d'exposition, en commençant par le Parcours Bijoux qui se tiendra en octobre à Paris… Restons en contact !
Créée en 2003, la galerie Elsa Vanier a fermé son lieu d'accueil (rue de l'Odéon à Paris) en 2021 pour se consacrer à la promotion du bijou contemporain sur internet et par le biais d'expositions ponctuelles annoncées sur le site et sur les réseaux sociaux.
La galerie représente des créateurs de bijoux contemporains dont le talent original laisse la part belle à des matières rares, précieuses ou fascinantes dans leurs collections. Ces artistes bijoutiers apportent souvent une réponse inattendue à la question du rôle du bijou en termes de relation au corps, d'impact psychologique et de ce qu'un bijou dit de son porteur.
Certains prennent leurs distances avec les matières précieuses et notre sélection privilégie l'émotion ressentie devant les œuvres avec une exigence d'originalité, de créativité et de qualité de la réalisation.
N'hésitez pas à parcourir nos expositions passées et à nous contacter pour un conseil ou un achat.
The author's jewel says a lot about our culture!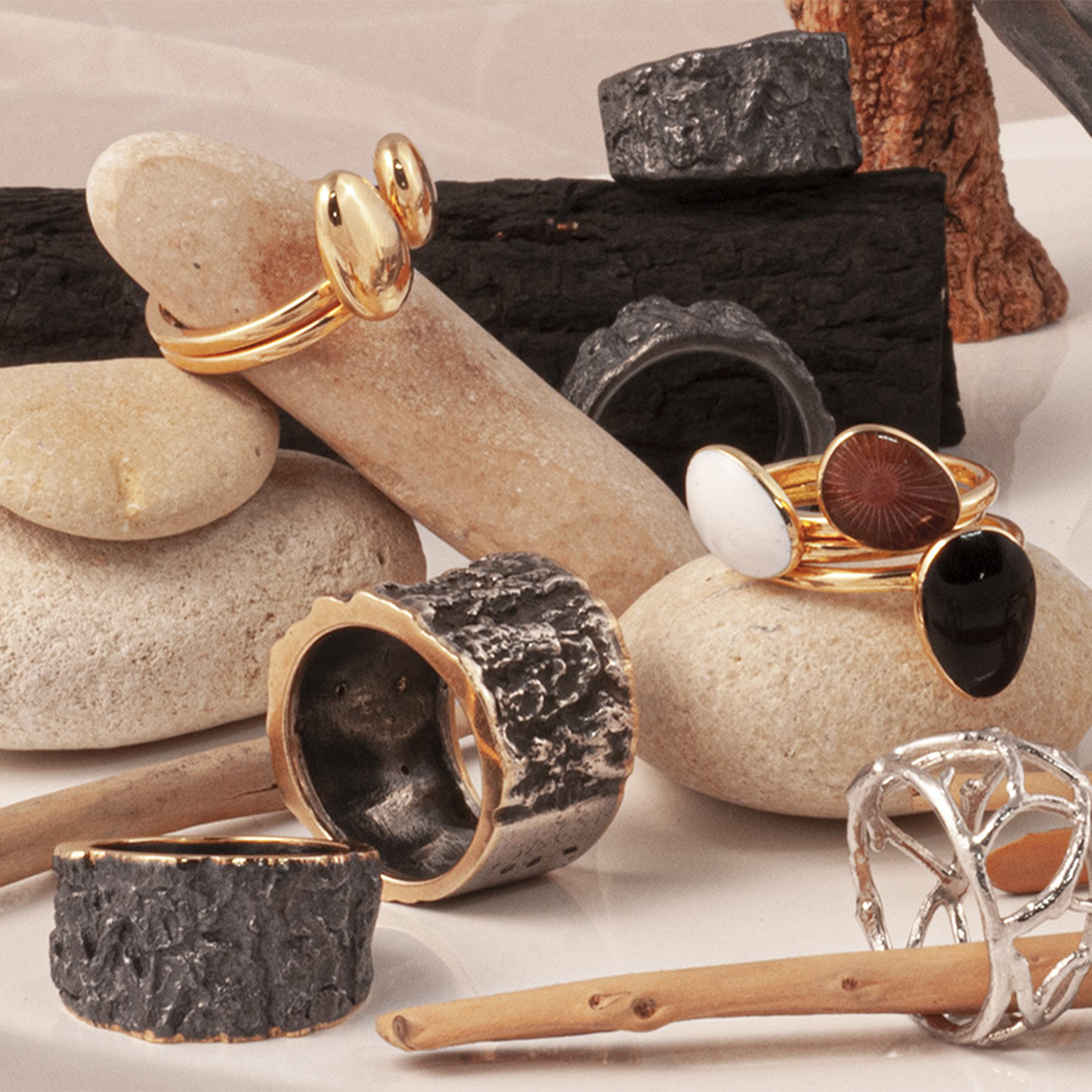 LE CHOIX DU BIJOUX D'ARTISTE
The gallery represents more than thirty permanent creators.
The creators we support create objects in precious or unusual materials, unique pieces or small series.
Their pieces demonstrate the mastery of their art, they open the doors to an original universe...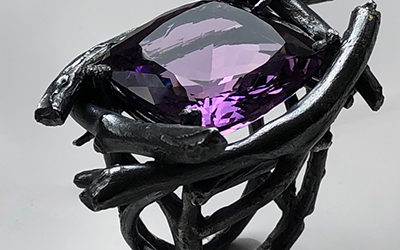 Tous deux joailliers, Philippe et Laurence Ratinaud créent des bijoux d'esprit contemporain à la fois précieux et bruts intégrant des matériaux tels que le bois, l'émail ou la porcelaine. Ils ont remporté de prestigieux concours internationaux : lauréats « De Beers Diamonds awards » en 1998 et «Tanzanite Fundation Awards» en 2007.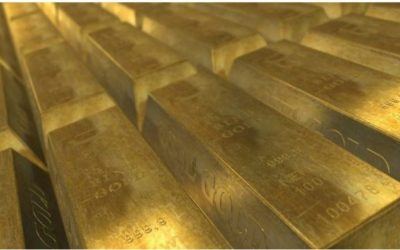 Let's start with a little anecdote showing how gold is an extraordinary metal: Gold atoms have the property of being able to move away from each other while remaining united. This is called ductility. By stretching a gram of gold, you can make...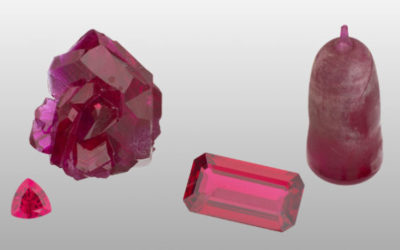 A few years ago, I had the pleasure of visiting the DJEVA factory and discovering a large manufacturer of synthetic sapphires and rubies located near Montreux in Switzerland. The factory runs 24 hours a day and employs nearly 80 people. The history of Djeva goes back to the...