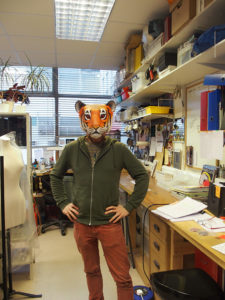 Qui mieux que John Moore pourrait illustrer une exposition dédiée à la couleur ? Lui qui a choisi l'aluminium pour son aptitude à se laisser teindre et encrer autant qu'anodiser…
J'ai rencontré John lors d'une exposition à Londres en 2014. Son nom m'avait été soufflé par un de mes clients, collectionneur, et je fus immédiatement intriguée par ses pièces délicieusement colorées et par son audace à réaliser des colliers d'une envergure impressionnante.
John Moore est orfèvre et designer. Il utilise l'or et l'argent pour leur beauté et le plaisir qu'il a à les travailler, mais c'est l'aluminium qui l'a envouté lors de sa toute dernière année d'études d'Art et de Design à la Manchester Metropolitan University.
Ce fut pour lui une révélation de découvrir les propriétés exceptionnelles de l'aluminium anodisé, un métal qui permet de réaliser des parures à la fois légères, volumineuses et colorées. Depuis, il n'a eu de cesse de mettre au point des bijoux mêlant ce métal à l'argent ou à l'or et en veillant à leur perfection comme un joaillier.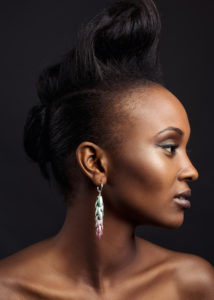 En 2016, il a reçu la plus haute distinction de la Goldsmith's Company pour son collier « Verto », en aluminium, caoutchouc et diamants, une pièce qui rappelle les « fraises » de la fin du 16ème siècle, mais j'ai une préférence pour ses bijoux multicolores.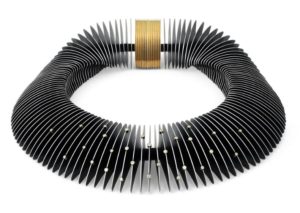 Curieuse de comprendre son travail, je profitai d'un voyage à Londres pour faire un détour par son atelier à Brighton.
Devant le bâtiment des années 60 qui abrite l'atelier, on est loin de l'image de carte postale d'un Brighton qui s'étend le long d'une plage de galets et son fameux « pier » 1900.
L'immeuble, construit  pour abriter des ateliers d'industries de précision est aujourd'hui investi par les start-ups en nouvelles technologies et les ateliers de design ou de graphisme.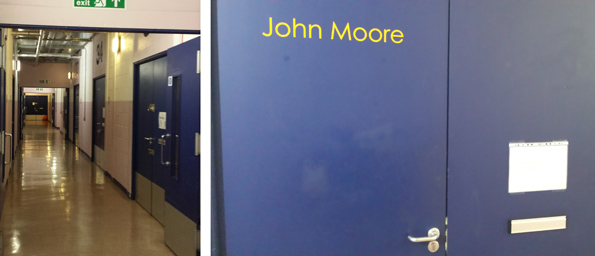 Mais une fois poussée la porte du studio, on est frappé par l'atmosphère pimpante qui règne dans l'atelier et l'accueil du  facétieux John est à l'avenant.
L'avantage de sa localisation est que le créateur a pu s'appuyer sur les compétences du dernier ingénieur présent pour se faire aider à mettre au point des outils pour sa presse centenaire.
Alors que je m'attendais à trouver des cartons pleins d'éléments en aluminium, teintés, découpés et cintrés, dans un simple atelier de finition, je fus étonnée de me retrouver dans un atelier de bijoutier traditionnel avec établi, pinces, chalumeau et outils de précision.
Partant de boucles d'oreilles Elytra posées sur l'établi, (voir photo ci-dessous), John m'expliqua le cycle de leur réalisation :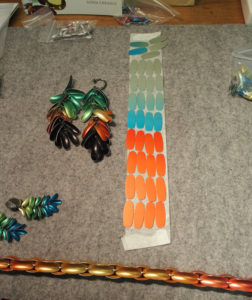 Il commence par teindre des plaques d'aluminium, d'environ 15 par 20cm en une seule couleur ou en dégradé. Il faut savoir que les teintures sont « transparentes » et que la couleur finale dépendra du temps du bain. On peut renforcer la couleur  (ou la modifier en additionnant une complémentaire  mais on ne peut atteindre une couleur plus claire que l'aluminium naturel, gris clair.
L'application de la teinture prend une journée ou plus car elle requiert une longue mise en place et un espace sans poussière, entièrement dégagé pour le séchage. Ce jour-là, il prépare ses couleurs pour les 6 mois à venir.
Une fois teintées et séchées, les plaques seront découpées une par une grâce à un gabarit d'acier placé dans la presse. Chaque élément est ensuite émerisé, troué et mis en forme, grâce à une forme en bois ou en plexiglass qu'il a sculpté lui-même.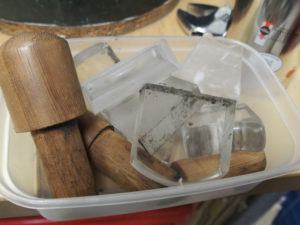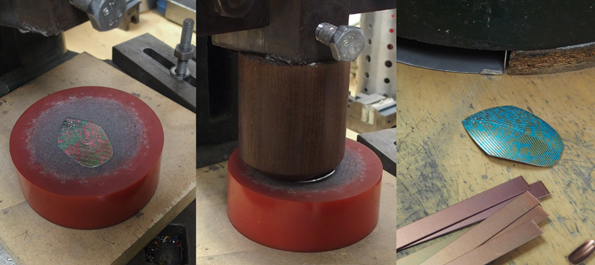 Caption: Flight loop: Before, on the red rubber base, during and after shaping. Note that the loops are not of the same colour Front and Back .
Then comes the assembly of each part. 18 to 30 fins for each Elytra earring for example. In front of a necklace where more than a hundred wings are assembled, I ask him how long it took him, he then answers to me, one by one, that if he counted it, he would cry. (I would be crying...). OK, I don't insist.
This visit allows us to lift the veil on a paradox: John Moore's jewellery, whose appearance and sharpness are reminiscent of mechanized manufacturing, is in fact the result of entirely manual work. And even the work of one man, which is hard to believe.
And always the artist's dilemma: since the pleasure is in researching and developing a new idea, he spends a lot of time experimenting, groping and making models.
A repetitive gesture quickly becomes boring. This means that a mastered, efficient gesture to make a model becomes boring and the model will soon be abandoned, thus removing any hope of profitability.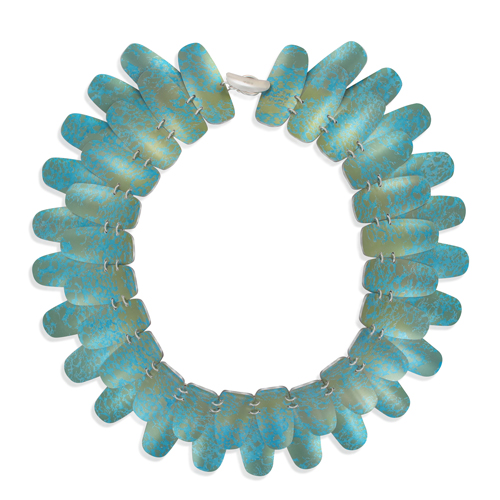 But the good news is this abundance of ideas and the pleasure of research which allows the creator to move forward, to limit himself to small series and thus to make us dream.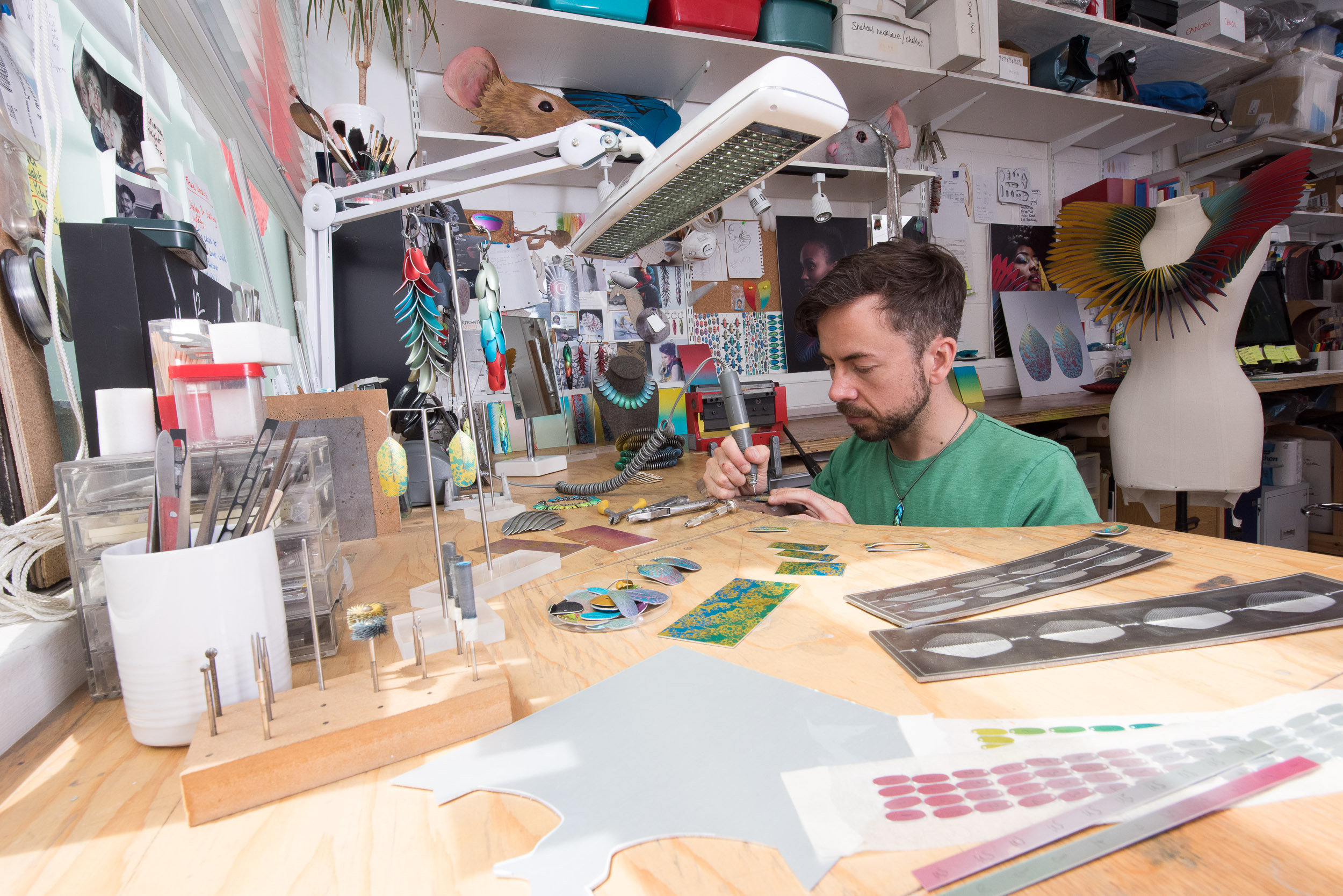 Photo credit:
Jewelry on mannequin: Chris Bulezuik, John Moore at the workbench : Philip Traill
See his website John Moore Jewellery