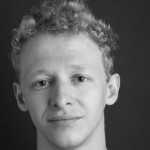 L'Exhibition "AND + If Affinity", proposes a passage of witness from creator to creator, without intervention of the gallery, which gave all freedom to the first artist (Agathe Saint Girons) exposed in autumn to choose a creator to whom it offers a window, during one month, on the condition of explaining its choice, and so on 4 times, for all the duration of the "Jewelry Tours".


Agathe Saint Girons initiated this "relay" by inviting Marianne Anselin on November 13, who invited Muriel Laurent on December 11. It is now Muriel Laurent's turn to pass the baton (materialized by a stick "jewelled" by each of the participants) to Ambroise Degenève who will exhibit from January 16 to February 11, 2014.
Image of theâton of this Exhibition-relay, front and side, enriched by Agathe Saint-Girons with an important brown glass bead and a silver plate engraved with the names of the participants.
Muriel Laurent's point of view:
"Already at the HEAD (Haute École d'Art et de Design - Geneva),Ambroise 's leitmotif wasanachronism. Gifted in technique, he has always enjoyed playing with the codes of jewellery. He dares to mistreat and alter precious materials or, on the contrary, to use cheap materials by giving them a sophisticated character.
All this is enhanced by a minimal design, simple and raw at the same time...
Ambroise is a work and a personality that I invite you to discover with pleasure. »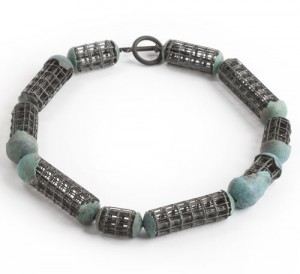 The Elsa Vanier gallery will exhibit pieces made of precious materials, gold and stones, sometimes mixed with other, more unusual materials. This brutal treatment of materials challenges the classical aesthetics of jewellery and cannot leave anyone indifferent.
I join Muriel in inviting you to discover the dreamlike world ofAmbroise Degenève from January 16, 2014, wild-looking jewels that are gently tamed...