The gold of the precious jewels, which offers the highest quality of holding in time and setting of the stones in safety is the gold 18 carats. This gold is composed of 75% pure gold and 25% other metals, usually a mixture of silver and copper and sometimes palladium.
In France, the law requires that jewelry and objects containing precious metals, gold, silver and platinum, be marked, "hallmarked" after being tested to verify the purity of the metal.
The jewels and precious objects must carry two punches, the first is the punch of Master which makes it possible to identify the workshop or the jeweller, drawing which is enclosed in a rhombus, the second is the punch of State. The latter indicates the purity of the metal (an eagle's head for example for gold 750 thousandths, (also known as 18 carats, an old measure which was divided into 1/24th, 18/24 = 750 thousandths).
The State hallmark is only mandatory if the gold or platinum in the jewel weighs at least 3 grams, or more than 30 grams for silver.
Most common French state hallmarks:
the eagle's head for gold 750‰ (18 carats), the Minerva head for silver from 800 to 925 ‰ and the dog's head for platinum 850 and 950 ‰.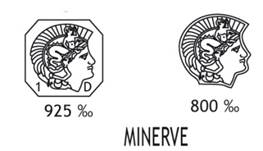 CERTIFICATES
The certificates are for the most precious stones. A certificate is a laboratory report such as :

Diamonds weighing more than 0.5 carats are generally accompanied by a certificate giving its characteristics: colour, clarity, weight and cut quality (the 4 C's - colour, clarity, carat and cut).
We are gemologists and will gladly help you choose a diamond.