/ EXPOSITION TITANESQUE
4.10 > 23.11.17
As part of the PARCOURS BIJOUX, a Parisian event for autumn 2017, the gallery has chosen to exhibit jewellery made of titanium, alone or combined with gold, silver and stones.This extremely light, captivating and demanding metal offers, through its colours, immense freedom of expression and allows for extravagant volumes.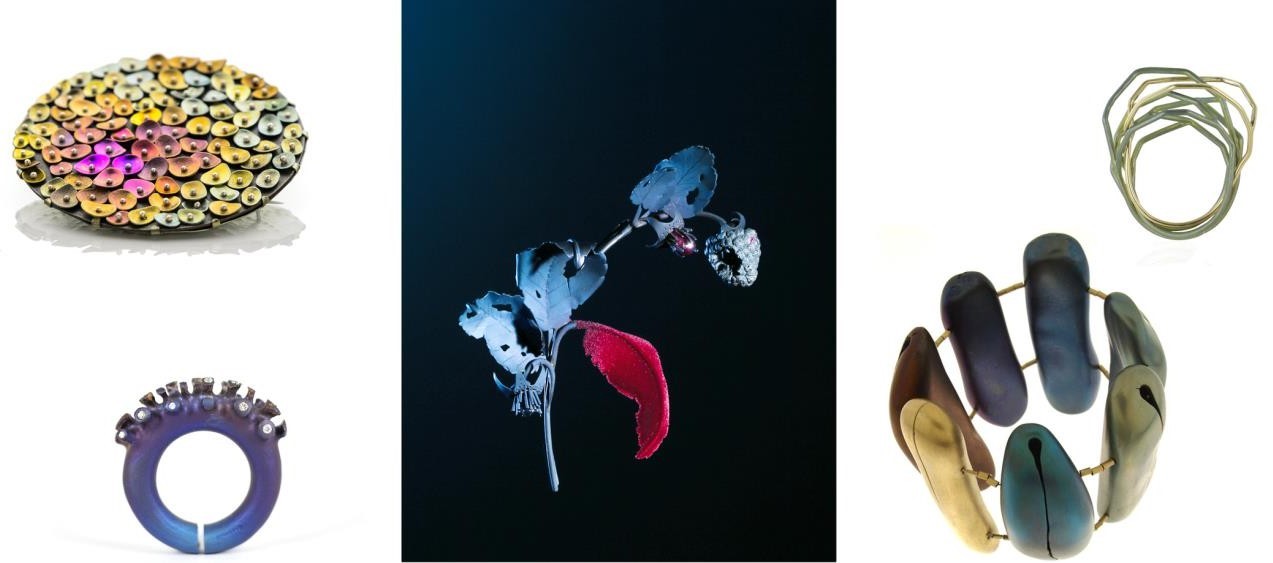 LEGEND, clockwise from left to right:
 Meghan O'Rourke, Australia - "Transitions" brooch, titanium, niobium, oxidized sterling silver; Roland Kawczynski, Switzerland - Raspberry tree brooch, titanium, silver, flocking, cordierite, rubies, pink sapphires, black sapphires Florence Croisier, France, - Vigne ring, green titanium and yellow gold; Jose Marin, Spain - "Monstruos en fila" bracelet, titanium, yellow gold, steel; Fabrice Schaefer, Switzerland - Forged ring, titanium, diamonds.
Jewelry, worked in leaves or threads of an incredible finesse will rub shoulders with jewelry more volume, forged and accompanied by gold and stones. Finally, the astonishing palette of colours, from the most subtle to the most exuberant, even iridescent, gives rise to jewels of an incredible variety. Pieces from 150 to 10 000 euros.
JEWELRY FROM: Marianne Anselin (FR), Florence Croisier (FR), Laurent Diot (BE), Nathalie Dmitrovic (FR), Karen Gay (FR), Roland Kawczynski (CH), José Marin (ES), Meghan O'Rourke (AU), Agathe Saint Girons (FR), Fabrice Schaefer (CH), Vanessa Williams (AU) and Claire Wolfstirn (FR).
TheExhibition was accompanied by a video by the director Elisabeth Coronel.