/ PARIS – TEL AVIV
  Six contemporary jewellery designers
7.11 > 5.12.18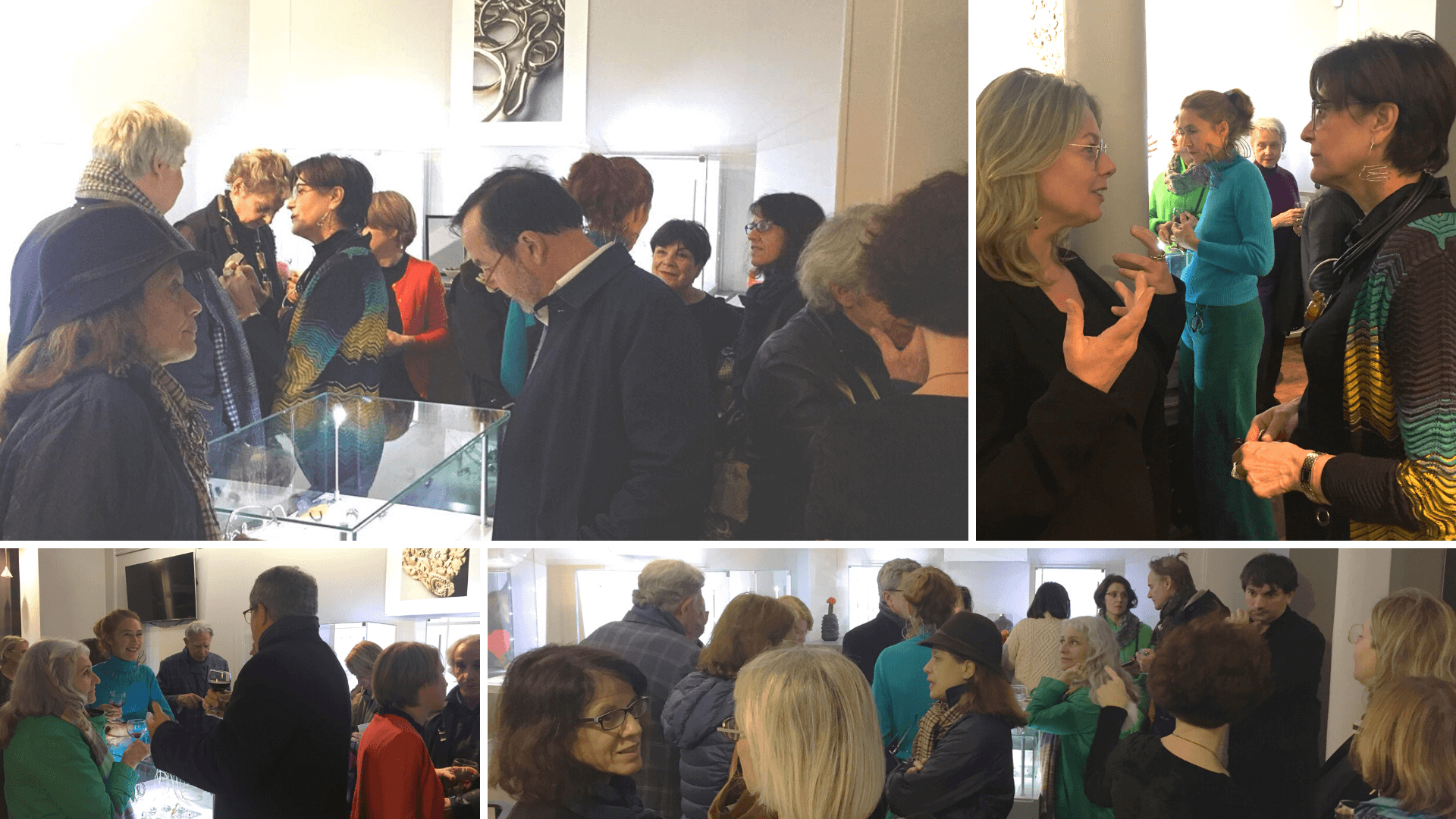 As part of the 2018 France-Israel Season, the Elsa Vanier gallery invites three Israeli designers to present their contemporary jewellery alongside those of three French designers:
Yael Friedman, Hadas Levin, Shir Pins - ISRAEL
Marianne Anselin, Florence Croisier, Agathe Saint Girons - FRANCE.

Yael Friedman, "Puzzled" ring; Hadas Levin, "Road Marks" pendants, 2018, blackened fine gold steel, oxidized silver; Shir Pins, "Writing"
These three creators reflect on the concepts or events that move them - memory and the trace of time, the ties that are woven, human relationships and everyday life.
Yael Friedman has been exploring new forms, materials, techniques and technologies for over 20 years. She sees jewelry as an interactive art form, sculptures that call on wearers to manipulate them. For Hadas Levin, jewelry making is like an ongoing narrative. A story to be told in an intimate language of images and forms.
All of Shir Pins ' creations originate from a thought or observation that the designer feels is essential to express in material form. Her jewellery is intended to be an intimate object - revealing or concealing the thoughts and desires of its wearer.
All three studied at the Bezalel Academy of Art and Design, (Jerusalem) and have exhibited regularly in Europe, Asia and the United States.
Their pieces will echo those of Marianne Anselin, Florence Croisier and Agathe Saint-Girons, three creators represented by the Galerie Elsa Vanier and whose favourite materials and themes are particularly relevant to our guests.

Marianne Anselin, ring "Bourgeon" ; Florence Croisier, necklace "Tisser des liens" © M. Gantner ; Agathe Saint Girons, necklace "Gribouillis"
With in common a work which combines research on materials, from the most precious to the most unusual, these 6 creators express themselves through strong, voluminous or on the contrary voluntarily fragile and light pieces.This Exhibition is part of the "cultural stroll" proposed for the France-Israel Season 2018, in order to discover talents and stimulate fruitful artistic exchanges.