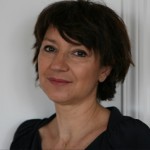 Born in Morocco and arrived in France at a very young age, Esther Assouline began her artistic career with pastels. It was only later, thanks to the meeting of a young woman, a teacher in a school of contemporary jewellery, that she discovered her vocation as a jeweller. She thus found, unconsciously, her Mediterranean roots where the jewel, worn from the youngest age, constitutes an essential element of the identity heritage.
For a year, she diligently attended classes and learned basic metalworking techniques such as soldering and shaping. However, this training was not enough for her to be able to print the designs she had in mind on gold.
Esther met the jeweller and chiseller Wiga Nikulski, with whom she learned the art of chiselling. This apprenticeship allowed her to assert her personality and gain confidence in her ability to express her emotions and cultural heritage through gold jewelry of incredible raw beauty.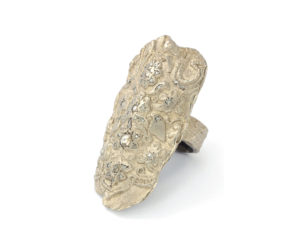 In 2007, while continuing to benefit from Wiga's technical advice, which accompanies her in her creative explorations, Esther Assouline decides to launch herself into the jewellery business. She signs her pieces "Esther", a name that perfectly suits her jewels that seem to emerge from the mists of time.
You work a lot on the patinated, hammered, dented or worn aspects. Is it a way for you to transplant an ancestral know-how that can be found in the goldsmiths of the Maghreb?
Esther Assouline: Absolutely! This dimension is fundamental in my work. Smooth, impeccable-looking metal does not correspond at all to my approach. I need asperities and even incidents. In this respect, chiselling has allowed me not only to be able to draw in metal but also to bring in material effects.
By using tools that I made myself, I get to the heart of the metal. Thus, when the jewel has a patina, unlike a machine chasing, the material effects that I have printed on it stand out even more.
So what might appear to be a flaw is a trademark for you?
Esther: It's actually great! And the reason why I could not consider delegating the realization to others. Indeed, when I work on a piece of jewellery, I never know when it will be finished. Even if I can say to myself at one moment that it is not useful to continue further, it is then enough that the slightest accident of matter arises so that it incites me to start again.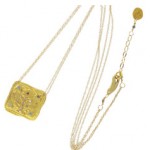 What are your favourite materials?
Esther : Like many jewellers, I started working with silver for economic reasons. But I found that there were so many things made of silver that this material did not give its true value to my research. So I decided to switch to gold, a material I love and which never ceases to stimulate my imagination. I particularly like 22-carat yellow gold, which has something sunny about it, but not too polished or smooth. I leave it as it is so that my jewels, once they have acquired a patina, retain this sensation of full and sensual material. For the rings, I use 18 carats (750/‰) for technical reasons because 22 would be too soft.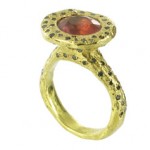 You often use precious gems in your work...
Esther: Yes, because I love them. Especially the coloured stones. I particularly like tourmalines and blue diamonds, whose tone blends so well with pink tourmaline. I also like the mixtures of the multiple colours of champagne, cognac and yellow diamonds, with from time to time a little touch of white diamond to give an extra note of light.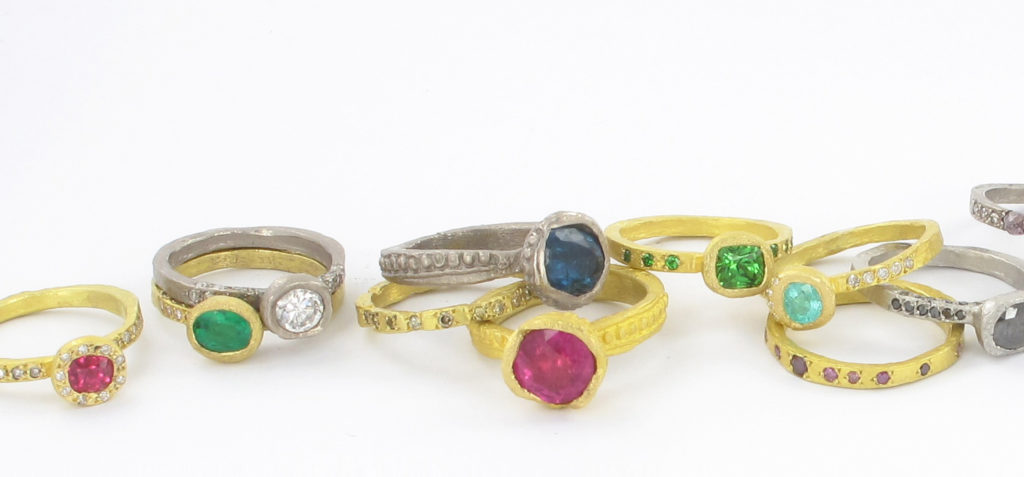 Do you try to tell stories through your creations?
Esther: Maybe mine first (laughs). That said, the first ring I made was like a tribute to my mother. She had a very old Berber bracelet in 22-carat gold that her father had given her when she was a young girl. I took the spirit of this bracelet and reworked it into a ring. This reinterpretation required so many hours of chiselling that it ruined my eyes and I have had to wear glasses ever since.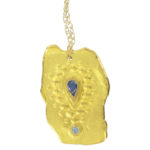 Otherwise, I also have a line that I named Jaipur. Its design is based on a drop worked with a little granulated and set with a small coloured diamond. It is my evocation of India.
We feel in your jewels a kind of spirituality...
Esther : I am deeply earthy by nature and I think you can feel that in my jewellery. Because they are very hammered, very human, they evoke fragments of stones or broken objects. At the same time, there is a strange feeling deep inside of me, difficult to explain, which invades me when I shape a piece. This probably explains why I am often told that my jewellery has a soul. I even have the feeling that beyond the influence of my Moroccan roots, the origin of this feeling goes back further in time, even before my birth...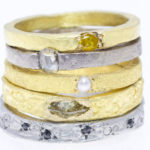 Find Esther's jewels on the website : Esther Assouline, designer jewelry at the Elsa Vanier gallery.
Discover her also in the program Nec plus ultra on tv5 monde, by clicking on the following link : Esther, jewellery designer